An exciting, new product development between Bowmer Bond Narrow Fabrics and Elliot Brown watches – A soft, woven webbing watch strap.
The goal of Elliot Brown Watches is to build the most wearable, affordable and toughest watches on the planet. Ian Elliot and Alex Brown share years of experience in watchmaking skills in the world of extreme sport. This combined knowledge forms the bedrock behind their extraordinarily capable watches.
Bowmer Bond was approached by Elliot Brown Watches to develop a strap that would be super-low profile, lightweight and with anti-bacterial properties. They had very specific requirements and tolerances for the webbing strap in order to accommodate their innovative patented clamp buckle. The outcome was a success and together we designed a soft, woven webbing strap with the above-mentioned properties and considered the most comfortable webbing strap on the market.
Our Heritage brand webbing is made at our main Ashbourne site in the family-owned textile mill which dates back over 150 years. The webbing used to make these unique watch straps is woven on traditional shuttle looms which weave at 1/10th the speed of modern looms and create unique double woven selvedge edges for strength. The webbing was woven for Elliot Brown by Bowmer Bond on 'Dolly', our recommissioned traditional shuttle loom.
The soft textured yarn was dyed in small batches to produce beautiful narrow fabric pieces. The resulting strap is both fast drying and durable, the fully woven edge gives increased edge abrasion resistance whilst having a modern aesthetic complementing the Canford watch design beautifully.
For more information on the product development journey from concept to finished product, see the story at Elliot Brown Watches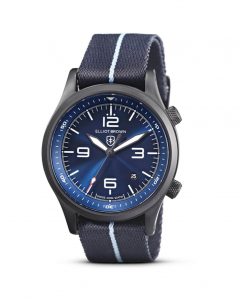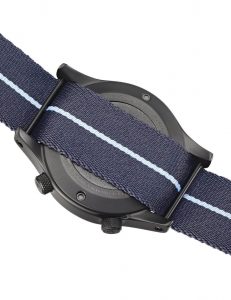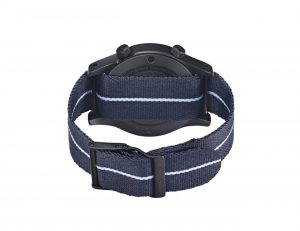 Posted 23rd November 2020 by kieran