On the 6th May 2021, you may have seen a report on the forthcoming opening of the Museum of Making at Derby Silk Mill on the BBC Breakfast programme.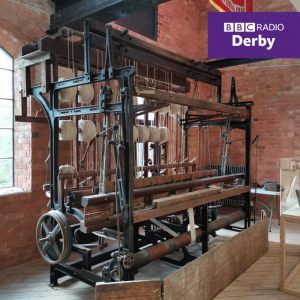 This is exciting news for us here at Bowmer Bond because, not only does it celebrate the heritage of the textile manufacturing industry in the East Midlands, but we also have some artefacts from Bowmer Bond on exhibit here.
The 'Bomber Loom' from Bowmer Bond has been installed at the museum along with some artefacts loaned by the Bowmer family. Edgar Bowmer's morning coat, waistcoat and trousers have been kindly supplied to accompany the loom and help to tell the story.
A lovely image of the 'Bomber Loom' was shared by BBC Radio Derby on Twitter. This loom was built circa 1910 where tennis web was woven at M. Bond and Co. (now
Bowmer Bond Narrow Fabrics Limited
).
The 'Bomber' was decommissioned in 1972 and now can be seen at the new 'Museum of Making' on the site of the Silk Mill in Derby
For the full story on the creation of the Museum of Making, see the article in the Observer from earlier this year.
The Museum of Making opened to the public on 21st May 2021
Posted 20th May 2021 by louise