Kevin and Jenny McKay, from our site in Tamworth, retired at the end of 2020. The company presented them with flowers, a bottle of brandy and vouchers to thank them both for their hard work and loyalty.
Kevin and Jen have spent their entire working lives in the textile industry and met when working at Tolson's Mill in Tamworth. They have worked for Bowmer Bond for the last seventeen years after joining the company in the autumn of 2003. At this time, Bowmer Bond had purchased the William Tolson business bringing an enhanced range of cotton tapes and webbings to our product portfolio.
Kevin and Jen have been instrumental in the smooth running of the Tamworth site whilst passing their skills and expertise to the team based there. Kevin has supported Dan Smith in his training and mentored him to enable his appointment as Manager at Tamworth, following in Kevin's footsteps.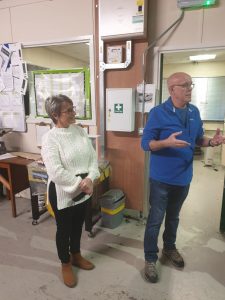 We wish Kevin and Jen a very happy retirement and thank them for all they have done at Bowmer Bond Narrow Fabrics!
Posted 20th May 2021 by louise